Dale Vince takes a VERY Bold stand to take ALL the food offerings for his football club in the UK to a Plant Based – Vegan Menu. In a great Article by Rachel Hosie (@rachel_hosie) she discusses how Dale turned this team AND all the food available at practices, games, etc to everyone INCLUDING the fans: Plant Based – Vegan.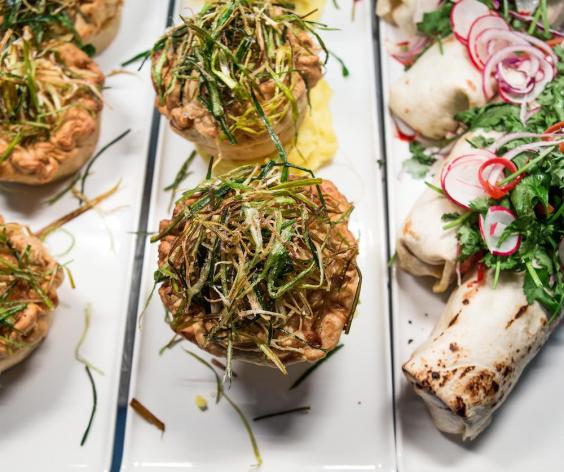 Over the last 10 years there has been a
360% increase
in the number of vegans in the UK. No longer the preserve of hemp-wearing hippies with dreadlocks, veganism has hit the mainstream.
But one person has been particularly pioneering in expanding the reach of a vegan lifestyle – Dale Vince, the chairman of Forest Green Rovers Football Club.
Thanks to Vince, the club has been fully vegan since June 2014. That means there's no meat, fish, dairy or animal products of any kind on offer at the club, whether for players, visitors or fans.
It wasn't, however, a sudden change, but rather a gradual move.
In October 2010, just days after he became chairman of the club, Vince – a green energy tycoon and founder of Ecotricity – took red meat off the menu.
Before his arrival, players were often served lasagne before matches, but Vince thought this was a mistake as red meat is difficult to digest: "It seemed to me wrong to be feeding players something that would hinder their performance," he told The Independent.
A while later he stopped the club serving white meat, then fish, followed by milk and cheese, and by the start of the season in June 2014, the Gloucestershire club was fully vegan and has been ever since.
"Personally I'm vegan and have very strong views on the environment, animal welfare and human health," Vince explains
"I couldn't be involved in something that was catering that kind of menu, but rather than do it in one go we went on a journey with our fans."
And it turned out the fans were surprisingly OK with the decision.
"A few got a bit angry and thought we were dictating to them what they could and couldn't eat," Vince says. "But we just explained that we were changing the menu according to our principals."
Despite traditional football match fare consisting of burgers and beers, there was relatively little backlash to the decision, but it was the initial removal of red meat from the menu that garnered the biggest reaction.
"Typically football food is hideous," Vince believes. "Burgers are really awful. They're the most awful parts of an animal and are really unappealing products that are cheap as dirt. We've replaced them with really high quality plant food."
Considering home games are just two hours once a fortnight, it's not too much to ask of even the biggest meat-eater. "For those that are really bothered they can bring their own ham sandwiches," Vince suggests.
He was simply trying to introduce a new kind of food to football that most fans hadn't tried before. "We didn't focus on what was not in the food but the food itself and how good it tastes," Vince explains.
Some of the
vegan
food served by Forest Green Rovers ()
Forest Green Rovers fans can now expect to enjoy veggie burgers ("our fans have really taken to them"), wraps and falafel when they come to matches.
There are still pies too – one of Vince's favourites is a vegan Quorn pie encased in vegan pastry, served on a bed of mashed potato, surrounded by peas and topped with fried, shredded leeks and gravy. "It's the most amazing dish," he says.
Some FGR fans have even become vegetarians since the club took meat off the menu, which Vince is obviously thrilled about: "They've told us it's changed their lives," he says.
But what about the players? Could vegan fare give them enough sustenance to run around a football pitch?
According to Vince, after being convinced of the performance benefit of eating vegan before a match, the players were "completely on board."
It was a surprising move though: "It's fairly widely known that red meat is bad for performance and it isn't common for top athletes to avoid it, but it's less common in football and particularly at the level Forest Green is at, in the fifth league," he explains.
Before Vince arrived, no one had put much thought into the players' diets. Now, however, the footballers are given a simple, carb-heavy meal two to three hours before a match – a pasta dish or jacket potatoes with baked beans, for example.
Vince accepts that it's hard to quantify how much of an impact the diet change has had on the team's performance because there are so many factors at play – they've had zero injuries this season though, which is unusual.
He believes the players are definitely benefitting from going vegan though, and points out that Manchester City striker Sergio Aguero credits his success with turning vegetarian.
Vince is thrilled that the club's fortunes haven't been affected by the new menu: "People thought we'd kill the non-football side of the club and no one would book conferences or events, we'd lose sponsors and fans would stop coming but none of that happened."
In fact, he says the people that were most vocal against the change are now the ones who are the biggest advocates of the new food.
As a man committed to green energy, football is his latest frontier.